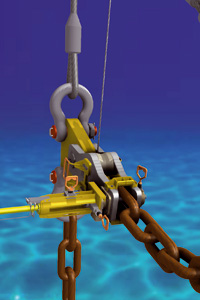 Picture courtesy of National Oil Varco
Vicinay Marine Innovación was started up in March 2010 by Vicinay to undertake innovation projects.
This organisation was born out of the necessity that today companies need to innovate to stand out from the crowd by working on ways to add high value to products that are seen to be technologically superior to those of their competitors and to ensure that the company is considered a reference point for developing solutions for the industry.
To support Vicinay Cadenas and its customers in investigating matters of their interest.
To improve existing products, processes and services as well as develop new ones.
To work on our customers' problems to resolve or minimise them.
To investigate new technologies and markets.
To push back the boundaries of our knowledge.
Among the services we can offer VMi customers are mainly the following:
Structural Integrity. Finite Element Analyses (FEA), Engineering Critical Assessment (ECA).
Full scale fatigue tests of chains and accessories in seawater.
Material tests: CTODs, tribology, crack growth, hydrogen embrittlement, environmental assisted cracking (EAC), corrosion, fatigue and gigacycle fatigue...
Mooring analysis checks.
Remaining life assessment of used chains.
3D photogrametry.