At Vicinay Cadenas we are conscious that our industrial activity influences the Environment and for that reason our management focuses on minimizing this impact.
We have implemented a rigorous operation of control in accordance with the guidelines of ISO 14001 supplemented by what we have learned from progressive organizations with related businesses or from comparable companies, as well as applying the best practices generated from our own internal studies.
We have carried out a complete life cycle analysis (womb to tomb) on our full range of products so as to know the environmental impact of each distinct phase of its processing, taking from this data the environmental impact of each product in accordance with ISO 14025 (EPD Ecoetiquette Type III), publically communicated in the official pages of Environdec.
We are founding members of the Basque Ecodesign Center, an entity unique of this type in Southern Europe, within which a limited number of private companies and the Basque Government are committed to design and execute innovative projects in accordance with Ecodesign (ISO14006).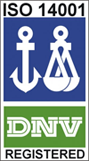 Downloads

Global Compact 2012